The confidence of global leaders sees marked decline since 2018
The 2019 Worldcom Confidence Index identifies that the confidence of global business leaders has plummeted since 2018. In an analysis of online content from more than 58,000 chief executive officers (CEO) and chief marketing officers (CMO), the overall confidence is down more than 20%.  The most significant drops can be found in the United States (51%) and China (21%). Japan bucked the trend, moving from last to first in the Confidence Index, with a rise of 74%.
Artificial Intelligence provides unrivalled view of trending topics and leaders' confidence and concern in addressing them
For the 2019 Confidence Index, we adopted a new and breakthrough way of understanding the issues that concern leaders – and their confidence levels in addressing them. We commissioned Advanced Symbolics Inc. (ASI), a research company that uses artificial intelligence (AI) to create a fully representative understanding of what audiences are saying. By using ASI's AI tool, and patented methodology, we have produced a truly global perspective on the business issues of the moment and where they rank in terms of leadership attention. We've also calculated the confidence index level for every topic and audience and identified how this changes around the world. This is incredibly valuable insight because it not only represents what leaders are talking about, rather than responses to questions, but also shows their confidence or concern in addressing each topic. It means you can compare your own thoughts with more than 58,000 of your global peers.
Influencers become #1 audience for leader attention
Just as in 2018, this year, we identified audiences that leaders are giving most attention to. Influencers, an audience in decline last year, leapt to first place in 2019 – growing its share of attention by a massive 160%. Customers slipped to #2 and saw their share decline by 44%.
Although influencers are getting the most attention from leaders, they have the second-lowest Confidence Index (CI) score for an audience, at 17.91. This disparity demonstrates leaders are concerned about communicating with this audience. This result may be a consequence of a feeling that leaders will need the support of influencers to help them steer their way through challenging and uncertain times.
Employee related topics dominate leaders' agenda
In last year's Confidence Index, we highlighted that the battle for talent that was underway. This year's topics show that the battle continues. Although employees slipped to third in the list for leader attention, employee-related topics dominate the issues discussed by leaders – representing five out of the top six topics and six of the top 10.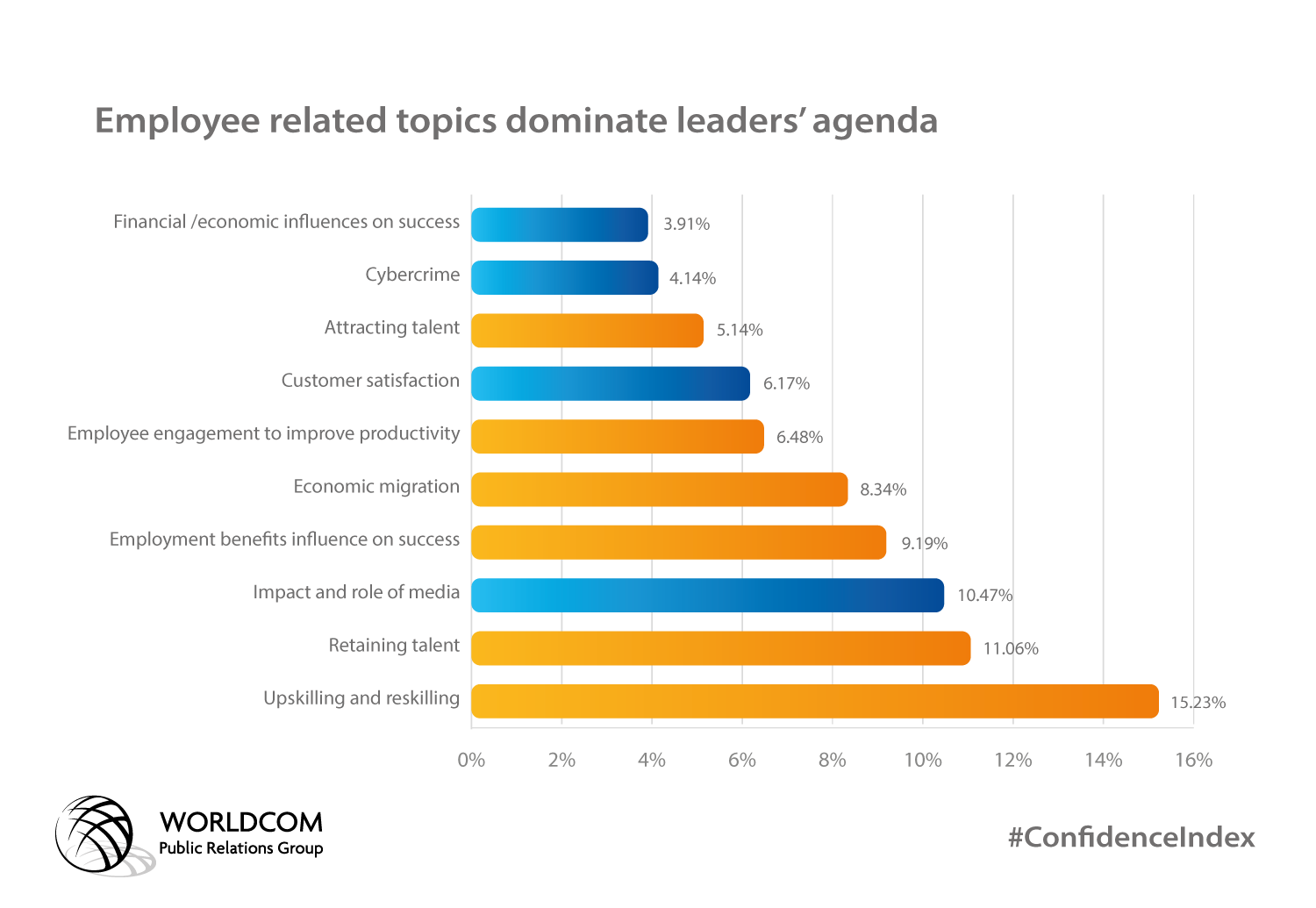 Upskilling and reskilling take centre stage in the battle to retain talent
Upskilling and reskilling employees was the number one topic for leader engagement – showing that business leaders see this as an essential step in the battle to retain talent. However, leaders are concerned about their ability to upskill and reskill. This category had a below-average CI score of 19.55. Retaining talent was the #2 topic in terms of leader engagement. The CI score for retaining talent has fallen by 10 per cent year over year. Leaders in the UK have the lowest confidence about retaining talent (14.75). Leaders in six other countries also see employee retention as a concern – the US, Canada, Mexico, Australia, South Africa and Brazil.

Leaders concerned about the impact of unacceptable behaviour
Unacceptable behaviour, such as sexual harassment, can have a significant impact on reputation. This topic is seen as a borderline concern in the Index with a score just above the Global CI average of 19.92. This middle of the road score hides marked differences around the globe.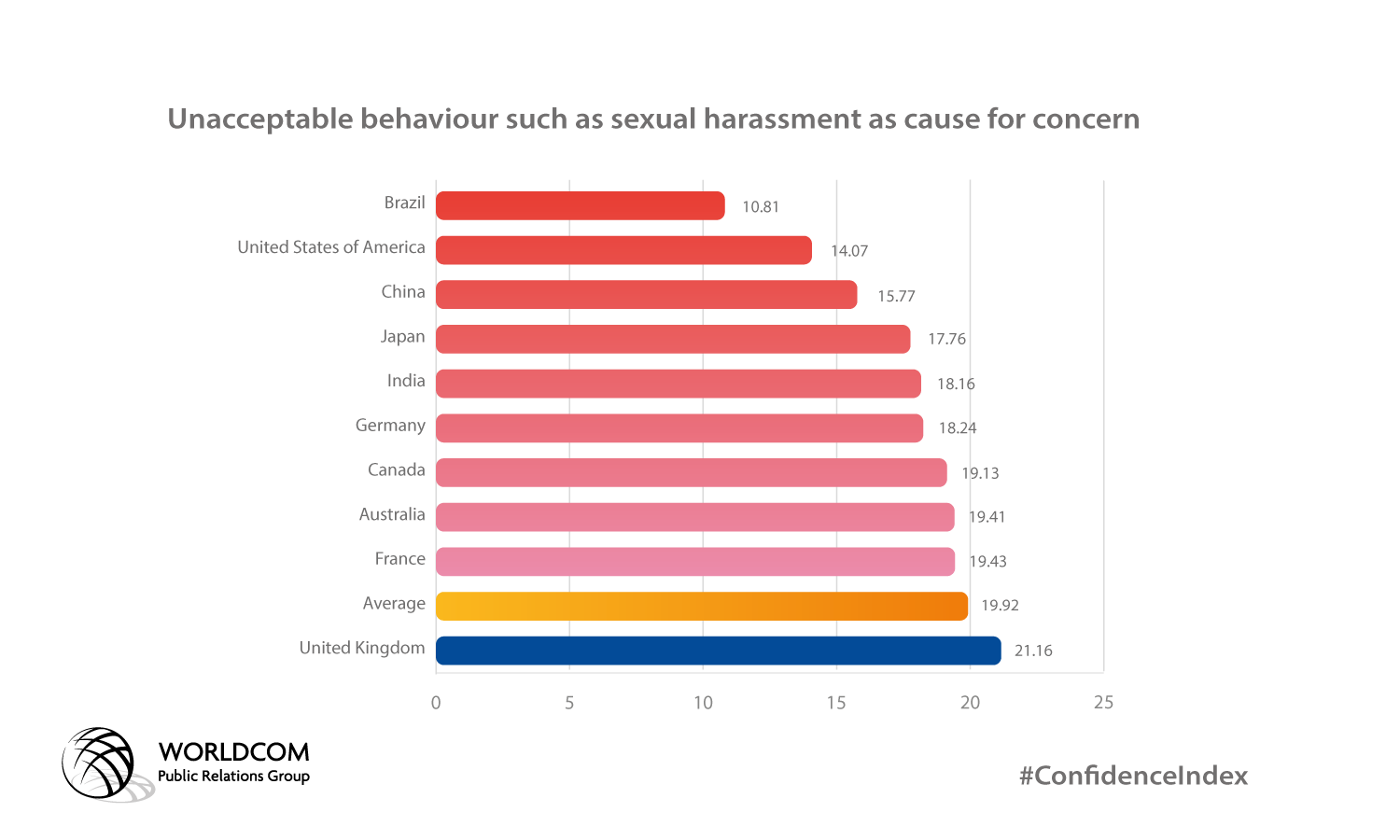 Leaders concerned about their ability to protect their brand in a crisis
The ability to protect your brand in a crisis has fallen from #11 to second to last (#22) in the Confidence Index (19.09). This change demonstrates that brand crisis is now a major concern for leaders. This is perhaps a reflection of the reaction to the #MeToo movement, which has seen the public, and the media, demand that leaders actively denounce those accused of bad behaviour. Leaders in Portugal seem most concerned about crisis management. Their score of 12.55 is significantly lower than the 21.77 score for leaders in the UK. Leaders in Japan, US, China, Germany, India and France are also concerned.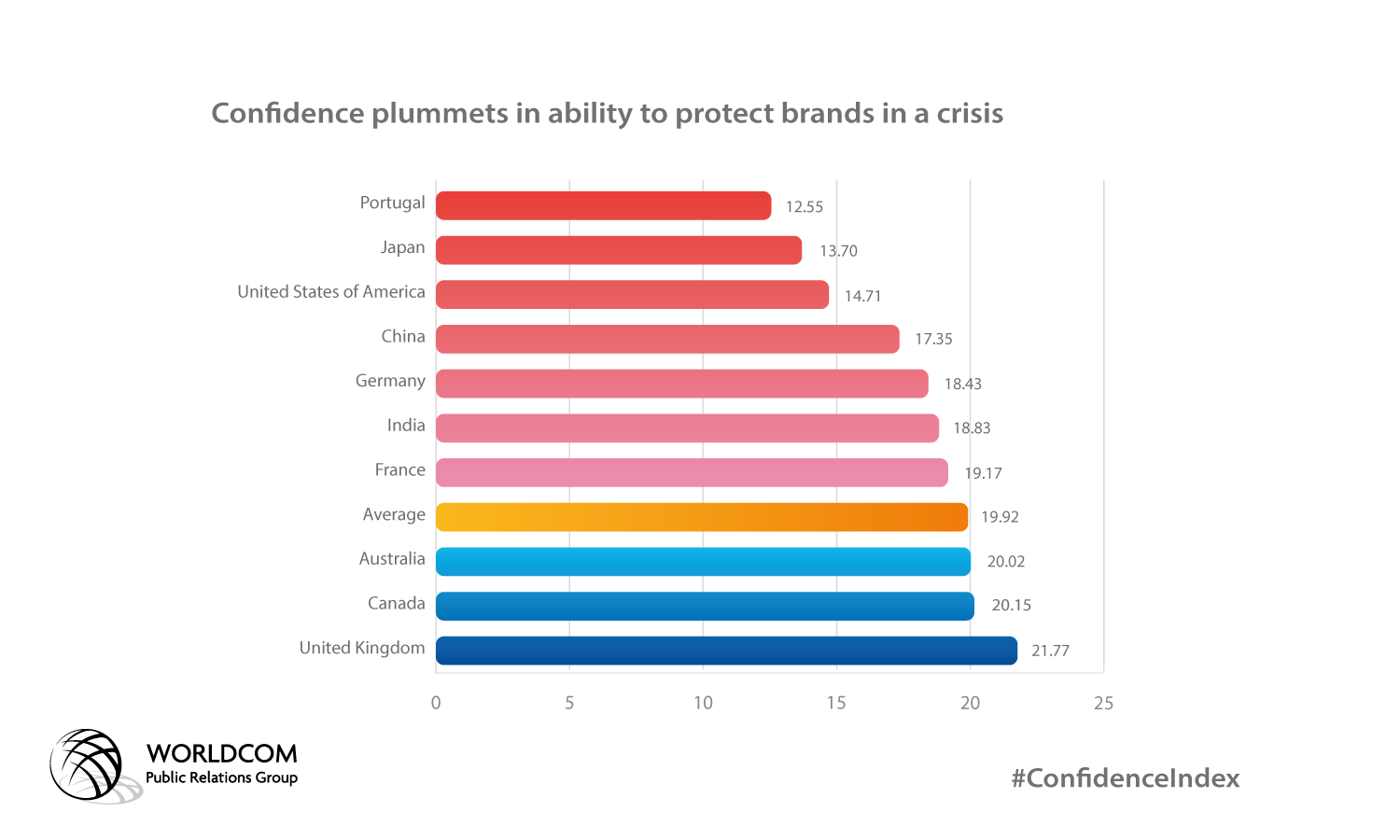 Global trade agreements and tariffs undermine confidence
One of the contributing factors to the decline in confidence is the topic of global trade agreements and tariffs. This category is the third lowest topic in the Confidence Index with a score of 19.13. The US has a significantly below average CI which may be a result of the reduction in US exports to China as reported by Bloomberg. The Bloomberg and tariffs on Chinese imports article says, 'nobody benefits from this trade war' and many leaders around the world seem to agree. UK leaders' confidence remains high at 20.90. But with Brexit still unresolved, this score may well be lower in the 2020 study.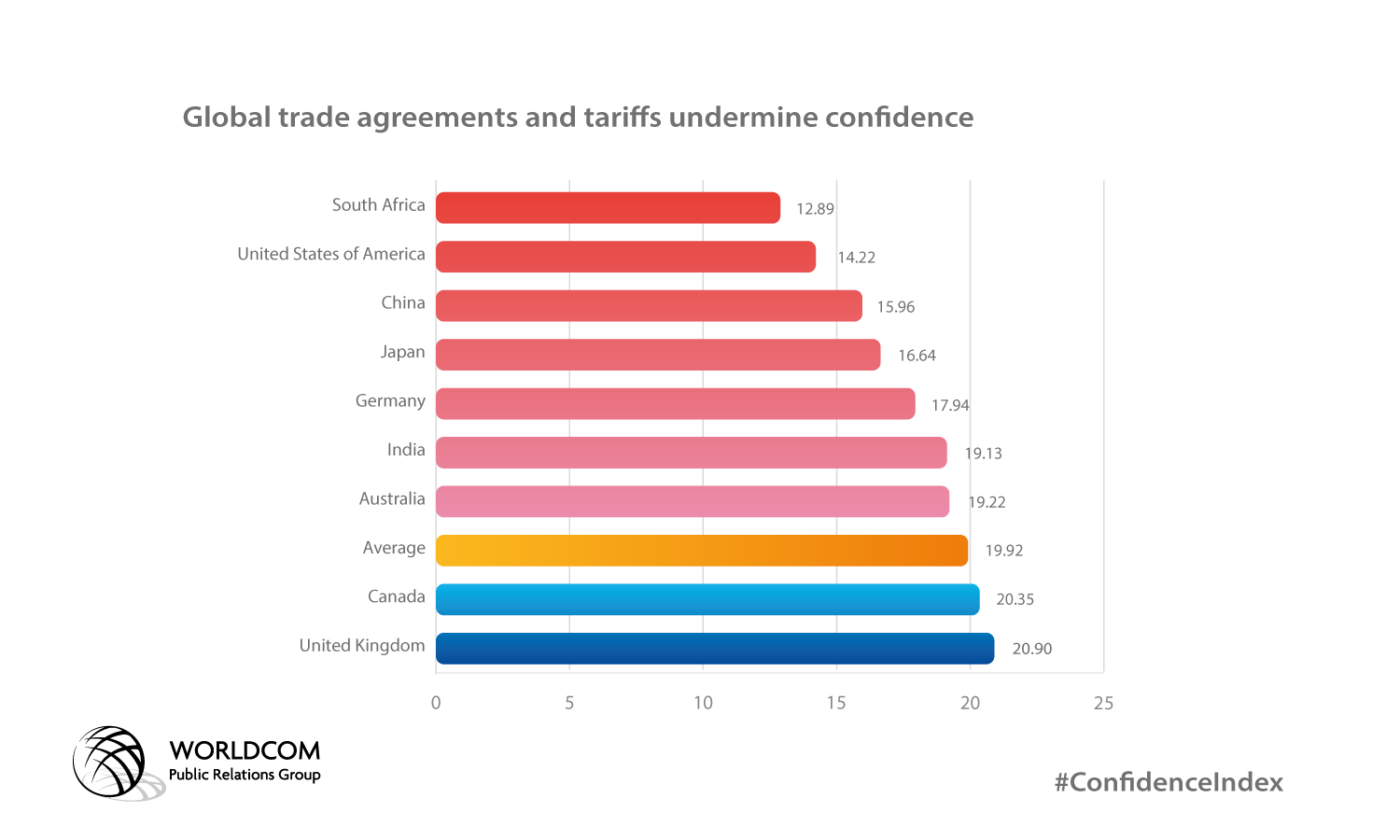 To get details on all these insights, download the Worldcom Confidence Index Report. Our team has also created regional reports that take a deep dive into the results by region including: Africa, Asia, Australasia, Europe, Latin America and the Caribbean, North America, South America.
Artificial Intelligence provides unrivalled view of trending topics and leaders' confidence and concern in addressing them