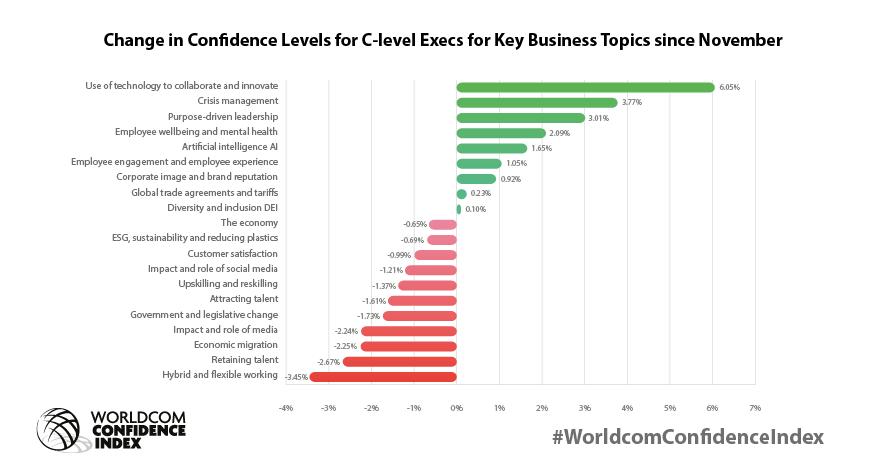 Confidence in being purpose-driven increases
On the face of it, the sharp decline (down 2.7% since November) in confidence in employee retention reinforces the fact that leaders may see technology rather than people as the route to future success. However, leaders may see becoming purpose driven as another 'progressive' reaction to the crisis. Confidence in this topic has increased by 3.01% since November. This suggests that leaders might focus on retaining only those employees who believe in the purpose for the organization and who embrace a new way of operating.
Confidence in hybrid and flexible working continues to decline
One adaption that has been forced on most organizations by the pandemic is the shift to hybrid and flexible working. It's clear that leaders are not convinced that they have found the optimum solution for a new way of working. Confidence in this topic has declined by 3.45% since November – the most for any topic.
Confidence in the role and impact of the media continues downwards
It also seems that business leaders are reassessing the role of the media as they plan for the recovery. Confidence in the impact of the media saw the fourth biggest decline of all topics, down 2.24% since November.
Todor Janev, chair of The Worldcom Public Relations Group, said: "Worldcom believes that the success of a 'progressive' approach to the recovery needs a very effective communications strategy to get buy-in from all stakeholders. Hybrid working, and using technology to change the way people operate, are very emotive topics. Unless these are handled as part of an integrated change program, organizations run the risk of their best intentions being misunderstood."
Local differences to global trends
The WCI provides insights for 42 countries where the Worldcom PR Group has partner offices. The results show some interesting differences to the global results at a local level. For example, in Brazil confidence in Diversity, Equity and Inclusion in January has increased by 4.04%[ii] but fallen in Poland by 1.23% since December[iii]. In Portugal, confidence has increased in hybrid and flexible working by 2.16%[iv] but fallen in Japan by 2.35% over the same period[v]. In depth results are available from our local partners from Argentina to Vietnam.
The Worldcom Confidence Index is the world's largest monthly study of what the C Suite is talking about[vi]. And it is the only global study that shows the change in confidence across a range of important business topics.
The Global Results for the month of January can be seen HERE.
The Video summary of the Global Findings can be seen HERE.

About the Worldcom Confidence Index
The Worldcom Confidence Index (WCI) is the first AI-driven 'living' global market research, tracking the topics that over 80,000 CEOs and CMOs are commenting on online. The AI-fuelled tracker is updated monthly and is drawn from an active sample of over 100,000 C-Suite executives. It tracks data for two roles, six regions, 42 countries and 11 industry sectors. It identifies the levels of engagement with business topics and how much the level of confidence for each topic has changed. It is the first global study of this type to use AI supported data capture.
About The Worldcom Public Relations Group 
The Worldcom Public Relations Group is the world's leading partnership of independently owned public relations firms, with 143 offices employing some 2,000 staff in 115 cities across six continents. In total, Worldcom partners reported combined revenue of US$300+ million last year from 3,034 clients. Established in 1988, the group was formed so that the strongest, most capable independent firms could deliver immediate impact and sustained value through the intelligent use of communications – wherever in the world a client needs support. Partners serve national, international, and multinational clients, while retaining the flexibility and client-service focus inherent in independent agencies. Through Worldcom, clients have on-demand access to in-depth communications expertise from professionals who understand the language, culture and customs of the geographic areas in which they operate.  Learn more about Worldcom at www.worldcomgroup.com or by calling 1-800-955-9675.
Connect with Worldcom PR Group on Facebook and LinkedIn
Learn more about Worldcom at www.worldcomgroup.com or call Todd Lynch at 1-800-955-9675.
---
[i] The Harvard Business Review article, Roaring Out of Recession, highlighted that the organisations that performed best following a global crisis adopted what they dubbed a 'Progressive' approach. This involved smart innovation to satisfy changed customer needs and smart changes to operations that enabled them to be more productive and profitable.