WCI POINTS TO A 'PROGRESSIVE' APPROACH TO RECOVERING FROM THE PANDEMIC

*The Worldcom Confidence Index (WCI) is the first AI-driven 'living' global market research, tracking the topics that over 80,000 CEOs and CMOs are commenting on online. The AI-fuelled tracker is updated monthly and is drawn from an active sample of over 100,000 C-Suite executives. It tracks data for two roles, six regions, 42 countries and 11 industry sectors. It identifies the levels of engagement with business topics and how much the level of confidence for each topic has changed. It is the first global study of this type to use AI supported data capture.
.
Confidence In The Use Of Technology Surges 6% Since November
The results for January 2022 for the Worldcom Confidence Index show some significant shifts in leaders' confidence that seem to be growing in pace in two main areas; the use of technology and the challenge of employee retention. In fact, changes in confidence since November suggest that a 'progressive'[i] shift may be underway. For example, confidence in the use of technology to collaborate and innovate has surged by 6% since November and confidence in artificial intelligence (AI) has increased by 1.65% in the same period. This suggests leaders may see technology as the solution to their need to adapt to customer expectations changed by the pandemic.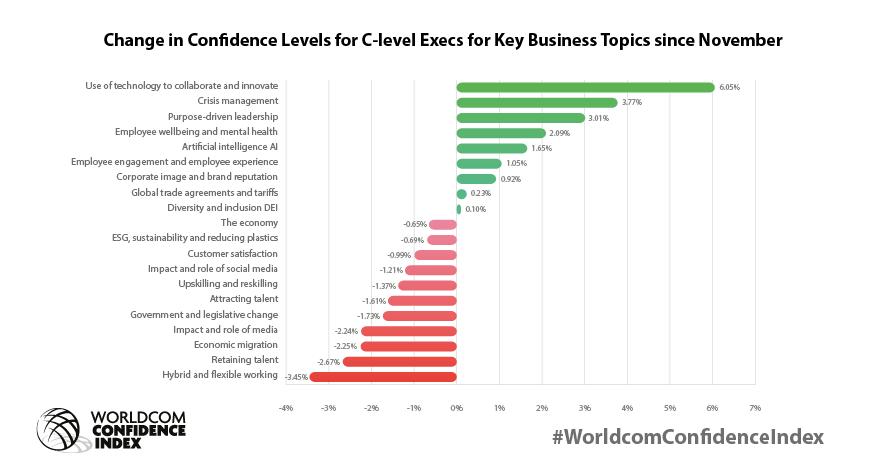 Confidence in being purpose-driven increases
On the face of it, the sharp decline (down 2.7% since November) in confidence in employee retention reinforces the fact that leaders may see technology rather than people as the route to future success. However, leaders may see becoming purpose driven as another 'progressive' reaction to the crisis. Confidence in this topic has increased by 3.01% since November. This suggests that leaders might focus on retaining only those employees who believe in the purpose for the organization and who embrace a new way of operating.
Confidence in hybrid and flexible working continues to decline
One adaption that has been forced on most organizations by the pandemic is the shift to hybrid and flexible working. It's clear that leaders are not convinced that they have found the optimum solution for a new way of working. Confidence in this topic has declined by 3.45% since November – the most for any topic.
Confidence in the role and impact of the media continues downwards
It also seems that business leaders are reassessing the role of the media as they plan for the recovery. Confidence in the impact of the media saw the fourth biggest decline of all topics, down 2.24% since November.
Local differences to global trends
The WCI provides insights for 42 countries where the Worldcom PR Group has partner offices. The results show some interesting differences to the global results at a local level. For example, in Brazil confidence in Diversity, Equity and Inclusion in January has increased by 4.04%, but fallen in Poland by 1.23%, since December.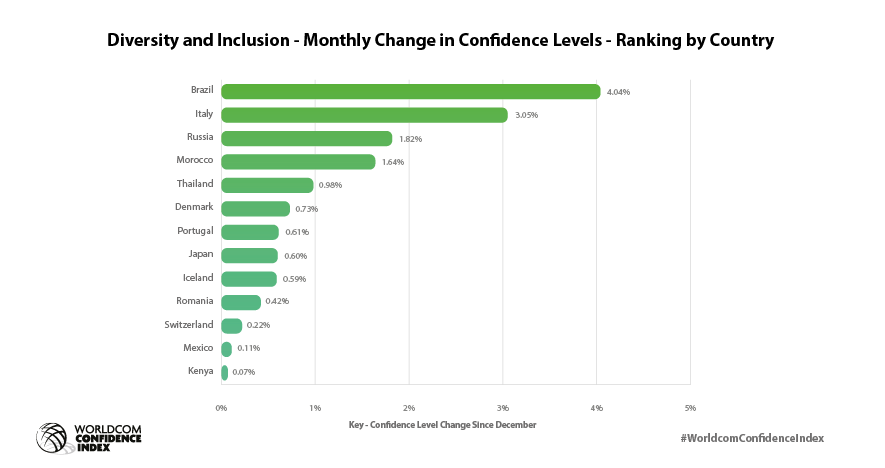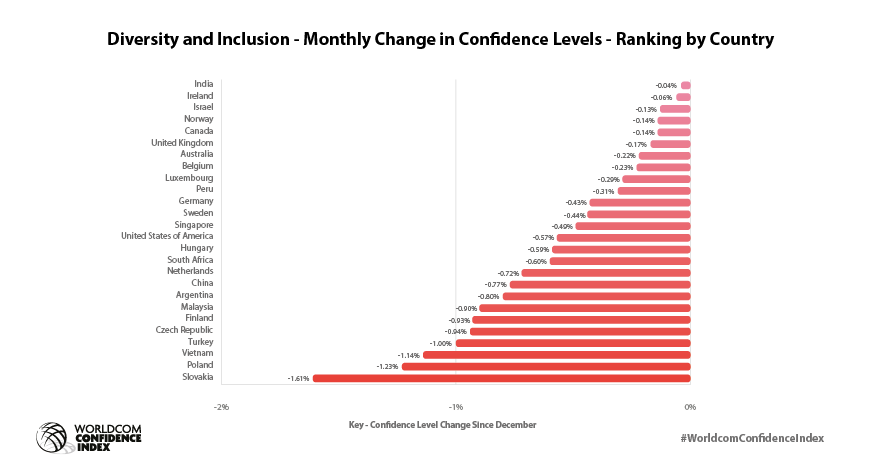 In Portugal, confidence has increased in hybrid and flexible working by 2.16% but fallen in Japan by 2.35%. In depth results are available from our local partners from Argentina to Vietnam.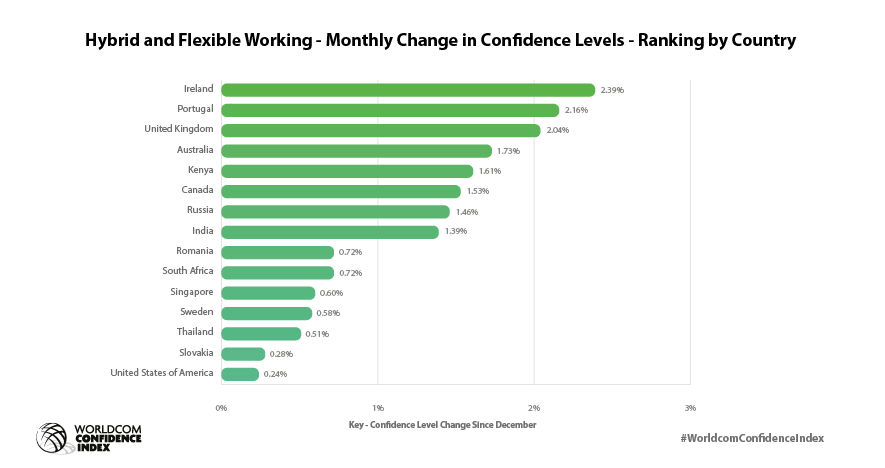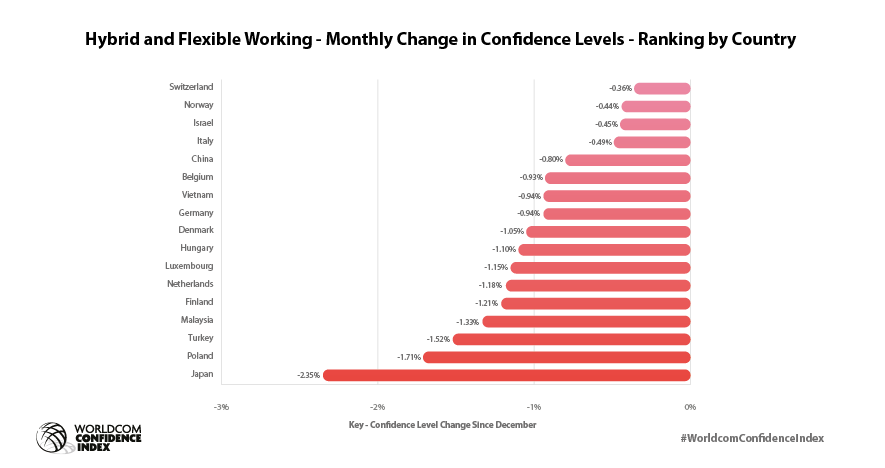 The Worldcom Confidence Index is the world's largest monthly study of what the C Suite is talking about . And it is the only global study that shows the change in confidence across a range of important business topics.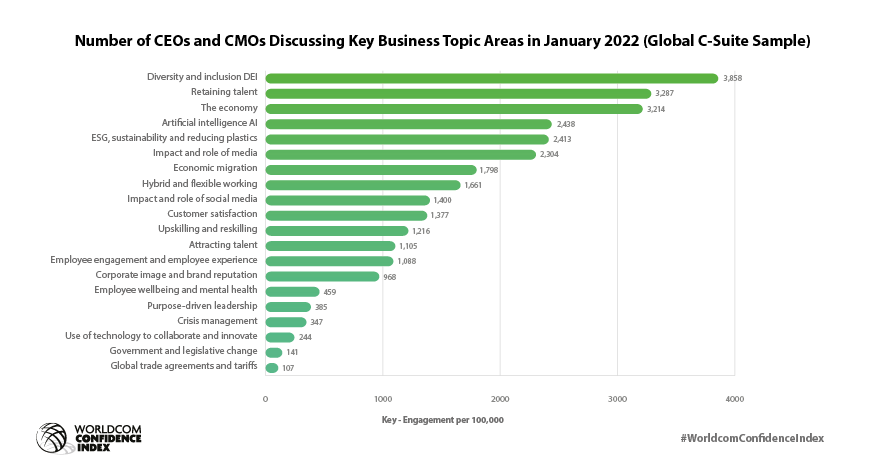 ---
[i] The Harvard Business Review article, Roaring Out of Recession, highlighted that the organisations that performed best following a global crisis adopted what they dubbed a 'Progressive' approach. This involved smart innovation to satisfy changed customer needs and smart changes to operations that enabled them to be more productive and profitable.
Artificial Intelligence provides unrivalled view of trending topics and leaders' confidence levels in addressing them
The Worldcom Confidence Index is the world's largest monthly study of what the C Suite is talking about. And it is the only global study that shows the change in confidence across a range of important business topics. It is able to operate at this scale, and in nine different languages, because the data is captured using a breakthrough approach powered by artificial intelligence (AI). This allows us to discover the issues that concern leaders – and their confidence levels in addressing them.
The chosen research firm, Advanced Symbolics Inc. (ASI), has developed a patented method of building representative samples and then capturing information with their AI tool. By using ASI's AI tool, we have produced a truly global perspective on the business issues of the moment and where they rank in terms of leadership attention. We've also calculated the confidence index level for every topic and audience and identified how this changes for 42 countries around the world. This is incredibly valuable insight because it not only represents what leaders are talking about, rather than responses to questions, but also shows their confidence or concern in addressing each topic. It means you can compare your own thoughts with more than 100,000 of your global peers.