Leaders' Changing Priorities Risk Losing Stakeholders' Confidence
The latest results from the Worldcom Confidence Index (WCI) identify significant changes in engagement levels between April and September 2022 for the 10 business topics which have the highest focus from global business leaders.

*The Worldcom Confidence Index (WCI) is the first AI-driven 'living' global market research, tracking the topics that over 80,000 CEOs and CMOs are commenting on online. The AI-fuelled tracker is updated monthly and is drawn from an active sample of over 100,000 C-Suite executives. It tracks data for two roles, six regions, 42 countries and 11 industry sectors. It identifies the levels of engagement with business topics and how much the level of confidence for each topic has changed. It is the first global study of this type to use AI supported data capture.
.
Significant Declines in Engagement for ESG and DEI Could Represent Threats to Stakeholder Confidence and Support
The largest decreases from April 2022 in the number [1] of leaders engaging with a topic – ESG (Environmental, Social and Governance), DEI (Diversity, Equity and Inclusion) and customer satisfaction – could represent potential threats to sustaining the confidence and support of key stakeholders, including consumers, employees and investors. However, the two largest increases in engagement over the same period – retaining talent and AI (Artificial Intelligence) – point to where business leaders may be looking for disruptive solutions to the challenges of a global recession.
The number of leaders focusing on ESG was down 28% and DEI down 18%.
An article by McKinsey highlights that deemphasizing ESG and DEI could be received negatively by investors and consumers, as this extract shows: 'To what extent do you manage your environmental footprint? To what extent do you enhance diversity? To what extent are you transparent in your contributions to a country? That has an impact on your license to operate in the minds of the stakeholders around you…. Consumers are now demanding high standards of sustainability and quality of employment from businesses. The investor community has also become much more interested. If you take the US as an example, about a quarter of the assets under management, or roughly $12 trillion, are ESG-rated investments.'
A survey reported in HR News showed that not being seen to take action on climate change would have a negative impact on talent attraction and retention, as can be seen by this extract: 'In this war for talent, robust climate action is a huge point of attraction. 70% of UK employees would be proud to work for a company committed to climate action, and more than half (54%) consider the steps a company has taken to reach net zero an important factor when deciding whether to work for them. 60% would choose to work at a company that has a clear plan to reduce or eliminate its carbon footprint over one that doesn't.'
A Forbes article in April 2022 reported that diversity/discrimination was the social-related risk which showed the largest increase in urgency from 2019 to 2021. The fact that significantly fewer leaders engaged with DEI in September than April represents a potential risk when compared to stakeholder' expectations about the issues that organizations and brands should be focusing on.
Increased focus on AI points to search for disruptive solutions to multiple challenges of a global recession
While fewer leaders focused on ESG and DEI, the numbers who engaged with AI saw the second largest increase since April, which moved this topic up one place on the WCI Top10 topics list, to #4.  This suggests that leaders are looking for disruptive AI-led solutions to the significant challenges they are facing.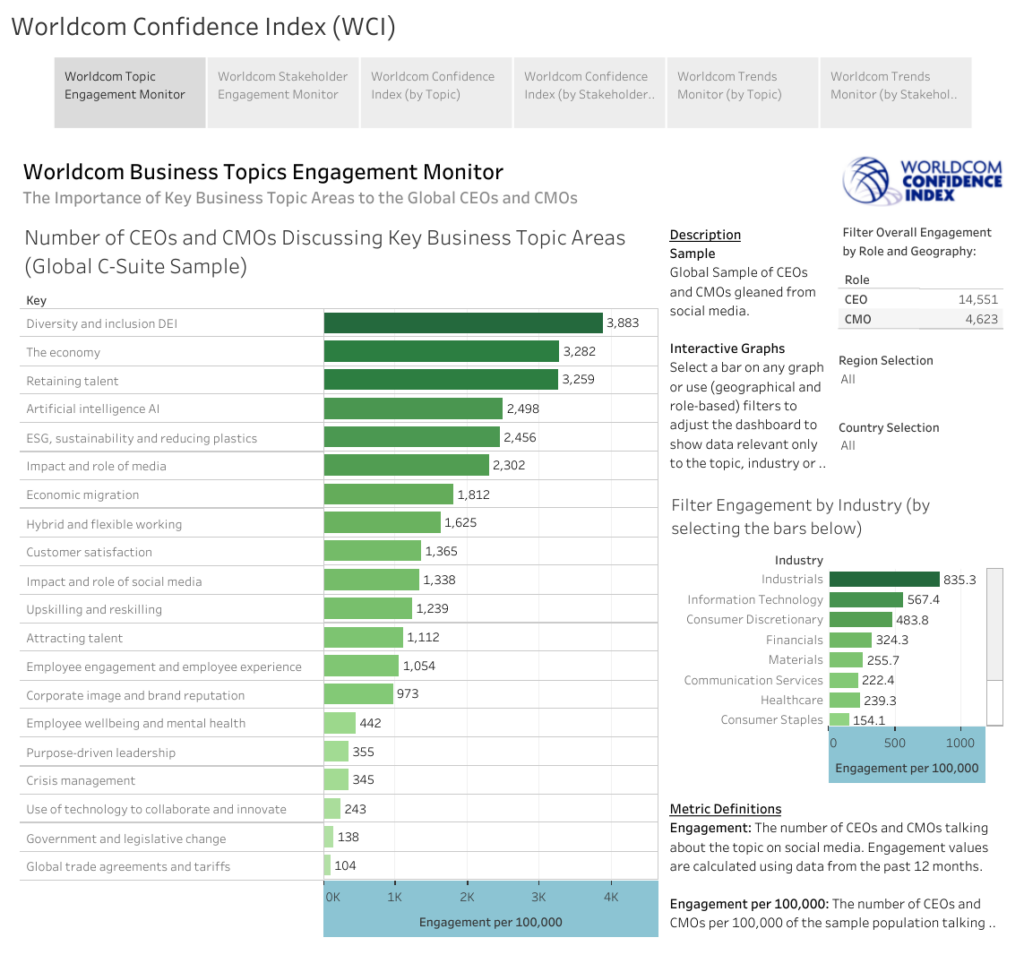 Increasing focus on attracting talent points to search for new skills as focus on retaining talent declines
Another significant change since April is the number of leaders focusing on attracting talent, which saw the biggest rise of any topic in the top 10, up 8%. Interest in retaining talent fell by 17% in the same period. This indicates that, while retaining talent is still important (the #3 topic in the WCI Top10), leaders have an increased focus on seeking new skills in response to changes in the economic backdrop. To succeed in attracting and retaining the right skills, leaders need to be mindful of employee expectations about DEI and ESG.
Decline in engagement with customer satisfaction could represent threat to customer loyalty
Another potential risk identified by the latest WCI data could arise from the fall in the number of leaders focusing on customer satisfaction – down by 21% from April.
Focus on the economy rises in relative terms
Although the numbers of leaders focusing on the economy was fairly static between April and September, it closed the gap on the #1 spot in relative terms and is very close to becoming the #1 topic in the WCI.
---
[1] The total number of C Suite executives in the sample that engage with each topic as opposed to the number per 100,000 which features on our website.
The Worldcom Confidence Index is the world's most extensive monthly study of what the C Suite is talking about. And it is the only global study that shows the change in confidence across a range of important business topics. This extensive data is now available via an interactive online portal and can be filtered by geography, industry and role. Explore the archive and updates of WCI data online.  Our Worldcom partners in 115 cities are ready to provide even more local context. Contact Todd Lynch to start the discussion.
Artificial Intelligence provides unrivalled view of trending topics and leaders' confidence levels in addressing them
The Worldcom Confidence Index is the world's largest monthly study of what the C Suite is talking about. And it is the only global study that shows the change in confidence across a range of important business topics. It is able to operate at this scale, and in nine different languages, because the data is captured using a breakthrough approach powered by artificial intelligence (AI). This allows us to discover the issues that concern leaders – and their confidence levels in addressing them.
The chosen research firm, Advanced Symbolics Inc. (ASI), has developed a patented method of building representative samples and then capturing information with their AI tool. By using ASI's AI tool, we have produced a truly global perspective on the business issues of the moment and where they rank in terms of leadership attention. We've also calculated the confidence index level for every topic and audience and identified how it changes for 42 countries around the world. This is incredibly valuable insight because it not only represents what leaders are talking about, rather than responses to questions, but also shows their confidence or concern in addressing each topic. It means you can compare your own thoughts with more than 100,000 of your global peers.