Business Leaders are focusing on their people, the economy and the planet

*The Worldcom Confidence Index (WCI) is the first AI-driven 'living' global market research, tracking the topics that over 80,000 CEOs and CMOs are commenting on online. The AI-fuelled tracker is updated monthly and is drawn from an active sample of over 100,000 C-Suite executives. It tracks data for two roles, six regions, 42 countries and 11 industry sectors. It identifies the levels of engagement with business topics and how much the level of confidence for each topic has changed. It is the first global study of this type to use AI supported data capture.
.
Time to take real action on Diversity, Equity and Inclusion
Diversity, Equity, and Inclusion (DEI) topped Worldcom's Engagement Monitor, making it the most talked about topic in October.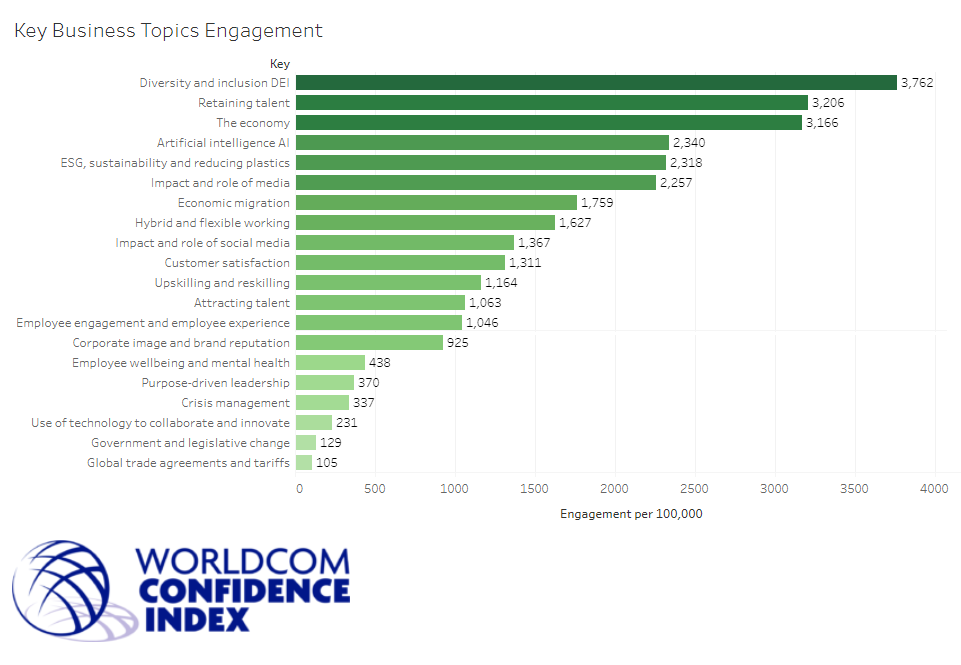 .
Retaining talent had the second highest level of leader engagement. Talent retention also saw the second largest decline in leader confidence since September – down 1.33%.
"Don't hesitate to give bigger responsibilities to your young, promising employees. Listen to them, dig into their aspirations. With the departure of many experienced workers and the huge movement among companies, there are great opportunities presented for the younger generation. They need to understand the path of how they can grow in your organization. Make sure they are properly coached – let them fail, and let them bounce back. Involve them in decisions with surveys, internal advisory boards or informal consultations."
Jean-Michel Nahas, VP and Partner at CASACOM, Canada
Time to address the challenges of Hybrid Working
The challenges of hybrid and flexible working increased its share of what CEO's were talking about online – moving to #8 on the Engagement Monitor.
And CEO's confidence in solving those challenges saw the biggest fall in confidence since September – down 1.72%. When you add in a fall in confidence for attracting talent, upskilling and reskilling, and retaining talent, it's clear that employees are currently the biggest concern for business leaders.
"It's clear that the pandemic has significantly changed the world of work for both employers and employees. Smart companies are now accepting rapid change as part of the new normal and our blog on Hybrid Working describes how to create equal (but not necessarily identical) workplace experiences for employees working in different locations. Organizations struggling to attract and retain employees in the current 'Great Resignation' era, should start by looking internally to ensure they're providing a workplace that makes employees want to stay for the long haul."
Matt Kucharski, President, Padilla, U.S.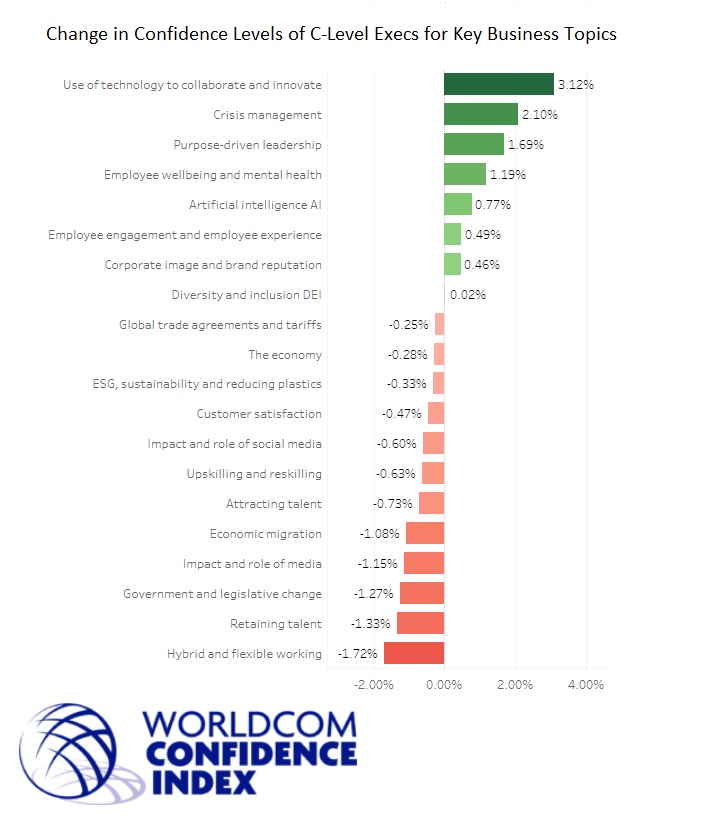 .
Time to focus on how to navigate an uneven economic recovery
The economy commanded the third highest level of leader engagement in October. Confidence in navigating the economy fell slightly, as did confidence in the related topics of global trade agreements, economic migration and government and legislative change.
Using Artificial Intelligence as one possible route to recovery may explain why AI was the fourth most talked about topic. It's a subject that saw an increase in confidence since September – up 0.77%.
.
Time to understand how to communicate contributions to saving the planet
With COP26 looming, ESG, sustainability and reducing plastics was the fifth most talked about topic in October. The commitments made at the conference show that business leaders are expected to play their part by leading the change in behaviour needed to try and halt the rise in global temperatures.
"As company stakeholders ranging from investors, customers and employees through to government bodies increasingly direct attention towards sustainable and socially responsible practices, the demand for ESG strategies grows ever more critical. In our Perspectives piece, we provide insight into the value of ESG towards achieving company growth."
Stephanie Paul, Managing Director, Phillips Group, Australia
.
Time to have a clear strategy for influencers, the media, and social media
Influencers were the audience most talked about by CEOs in October. The impact and role of the media and of social media both featured in the Top 10 topics for the month. And in both cases the confidence of leaders saw a decline since September – with confidence in handling traditional media experiencing the fourth largest fall over the month.
"Influencers are a powerful tool in the modern world of communication, and they are just as important and influential in the B2B industry as they are in B2C. It makes sense to establish senior executives as influencers in their own market sector by running a dedicated thought leadership program."
Corinna Voss, Managing Director, HBI PR & Marcom, Germany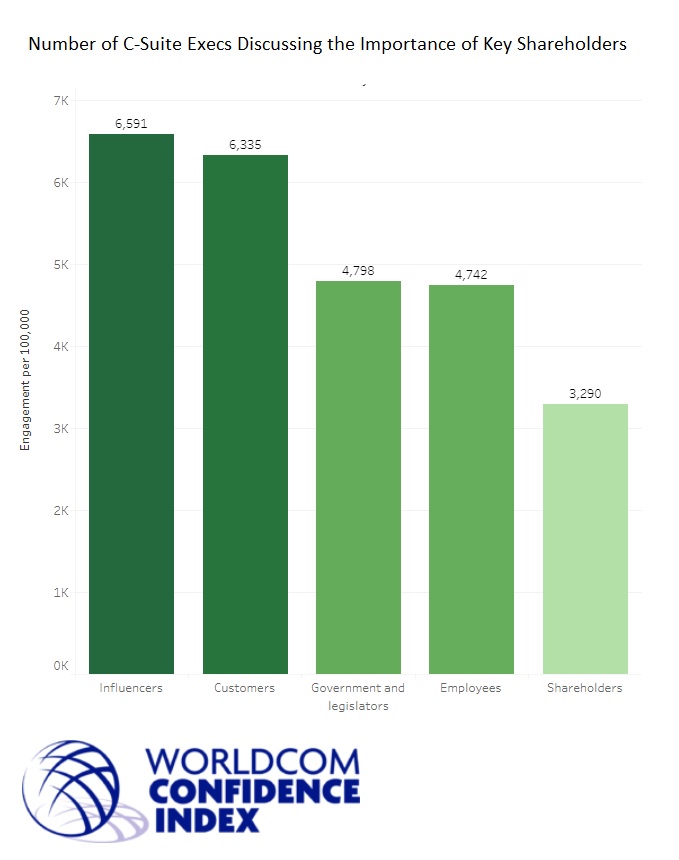 .
Artificial Intelligence provides unrivalled view of trending topics and leaders' confidence levels in addressing them
The Worldcom Confidence Index is the world's largest monthly study of what the C Suite is talking about. And it is the only global study that shows the change in confidence across a range of important business topics. It is able to operate at this scale, and in nine different languages, because the data is captured using a breakthrough approach powered by artificial intelligence (AI). This allows us to discover the issues that concern leaders – and their confidence levels in addressing them.
The chosen research firm, Advanced Symbolics Inc. (ASI), has developed a patented method of building representative samples and then capturing information with their AI tool. By using ASI's AI tool, we have produced a truly global perspective on the business issues of the moment and where they rank in terms of leadership attention. We've also calculated the confidence index level for every topic and audience and identified how this changes for 42 countries around the world. This is incredibly valuable insight because it not only represents what leaders are talking about, rather than responses to questions, but also shows their confidence or concern in addressing each topic. It means you can compare your own thoughts with more than 100,000 of your global peers.