Business leaders need to be purpose-driven to meet the main challenges of 2022 and beyond

*The Worldcom Confidence Index (WCI) is the first AI-driven 'living' global market research, tracking the topics that over 80,000 CEOs and CMOs are commenting on online. The AI-fuelled tracker is updated monthly and is drawn from an active sample of over 100,000 C-Suite executives. It tracks data for two roles, six regions, 42 countries and 11 industry sectors. It identifies the levels of engagement with business topics and how much the level of confidence for each topic has changed. It is the first global study of this type to use AI supported data capture.
.
Time to run a proactive Internal Communications campaign that focuses on bringing the Purpose for the organization to life for every employee
Diversity, Equity, and Inclusion (DEI) was the most talked about topic in December 2021.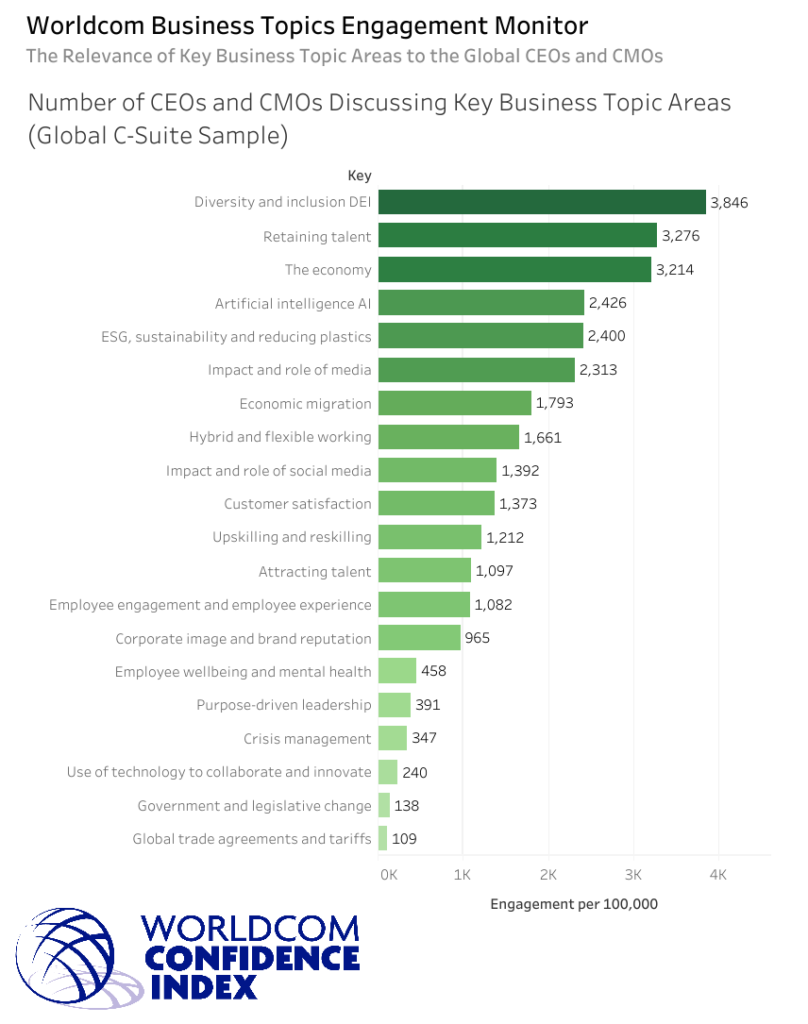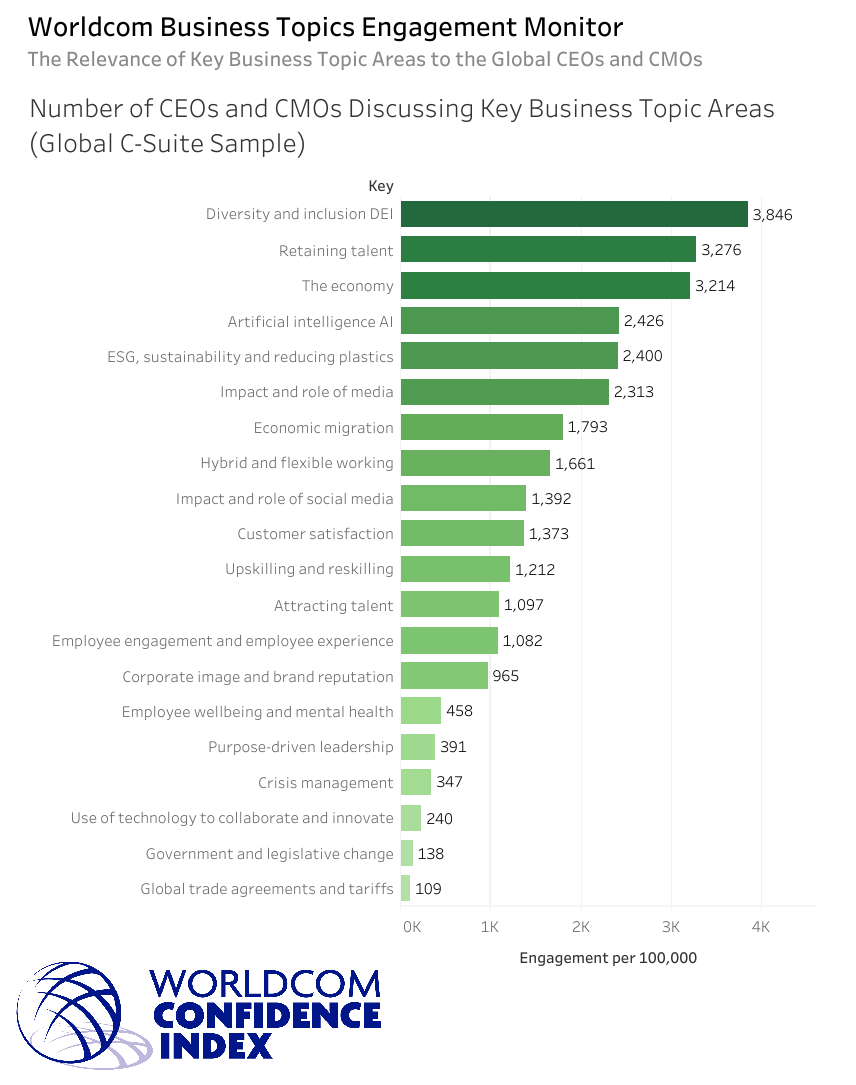 Retaining talent had the second-highest level of leader attention in Worldcom's Engagement Monitor, but saw the second-largest decline in leader confidence since November – down 1.33% – showing a continuing decline since September.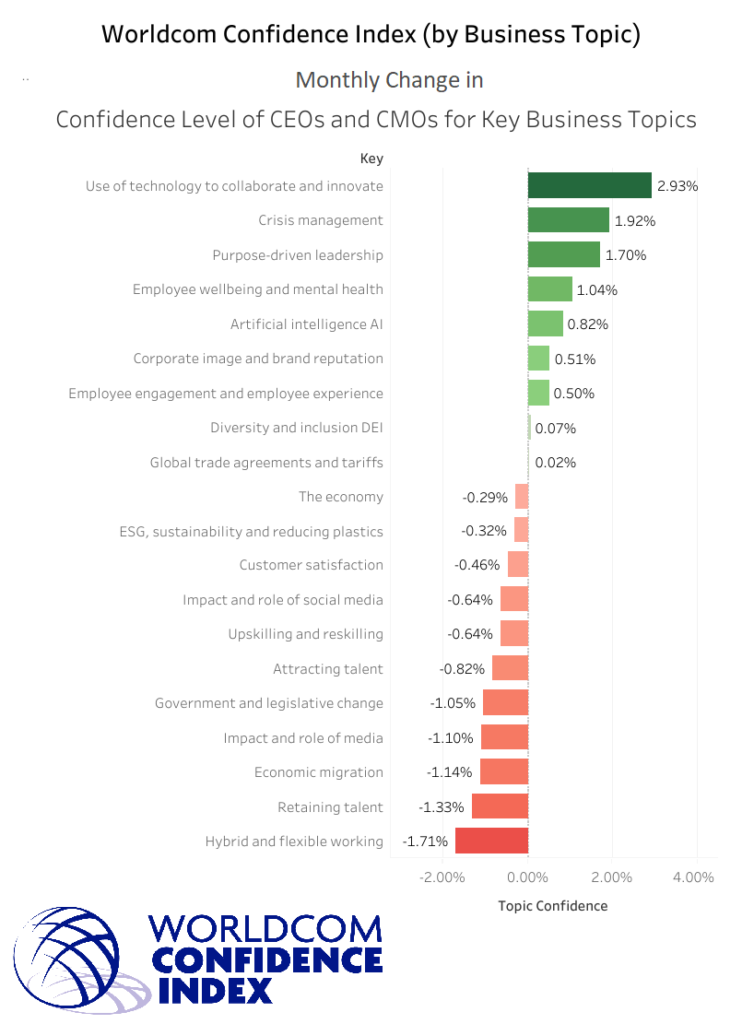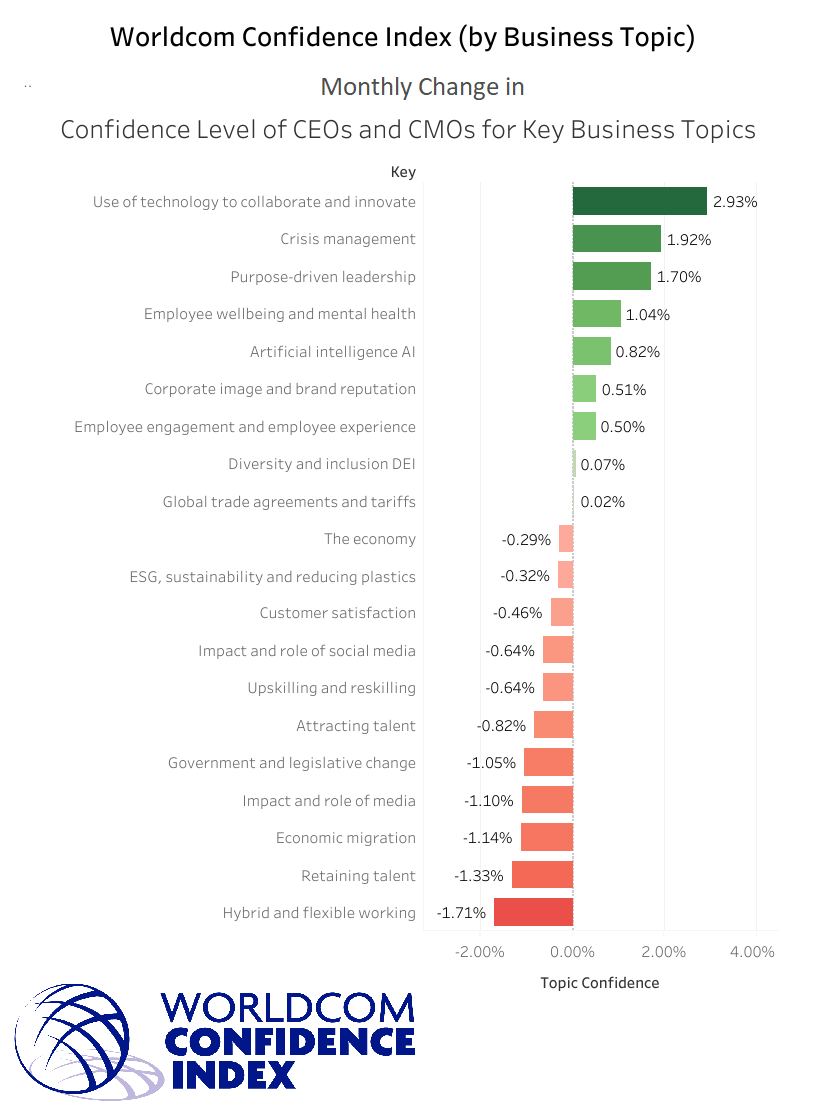 Leaders' focus on DEI and retaining talent highlights the need for leaders to have a completely transparent policy on how they treat their people – and be certain that the behavior of all leaders and managers supports it. The fact that leader confidence in retaining talent had the second-largest decline since Novembers shows that concerns about the Great Resignation are very much alive. This is reinforced by the fact that retaining talent had three times the level of engagement as attracting talent.
Worldcom experts recommend a proactive internal communications campaign that focuses on bringing the Purpose for the organization to life for every employee. Analysis by Engagement Multiplier shows that shared purpose is a significant driver of loyalty and business performance. For example, businesses where employees scored purpose over 75 out of 100, experience retention 4x higher than businesses where the score is less than 50.
Time to provide clear and simple updates on the organization's approach to hybrid working and employee mental health and wellbeing
In December, business leaders' focus on employees increased compared to November. But the increase masks other changes related to specific employee issues. For example, confidence in employee mental health and wellbeing saw the fourth largest increase in confidence since November (up 1.04%). This may be based on more organizations returning to pre-pandemic working styles. However, hybrid and flexible working confidence saw the biggest fall in confidence since the previous month (down 1.71%). In addition, the rapid rise of Omicron and the impact this has had on work patterns will increase the pressure on employees who are seeking more certainty in their lives.
Time to review global communications strategies so that brands can perform at their best in all the territories where they are represented
The economy, and therefore the commercial side of running a business, saw a slight increase in leader attention. This was matched with an increase in confidence in handling customers. The level of engagement for global trade agreements and tariffs also increased – up almost three times since November. This indicates that leaders are beginning to take a more international perspective as they prepare for a return to some levels of normality.
Time to ensure that crisis preparedness is constantly updated and that there is consistent communication to reinforce best practice behavior

Confidence in crisis management saw the second-largest increase in December (up 1.92%), perhaps due to higher vaccination levels promising a path back to normality. However, the latest crisis for the UK government over a drinks party in May 2020 shows that leadership behavior is under constant scrutiny. As a result, leaders will need to ensure that their crisis preparedness is constantly updated and that there is consistent communication to reinforce best practice behavior.
Artificial Intelligence provides unrivalled view of trending topics and leaders' confidence levels in addressing them
The Worldcom Confidence Index is the world's largest monthly study of what the C Suite is talking about. And it is the only global study that shows the change in confidence across a range of important business topics. It is able to operate at this scale, and in nine different languages, because the data is captured using a breakthrough approach powered by artificial intelligence (AI). This allows us to discover the issues that concern leaders – and their confidence levels in addressing them.
The chosen research firm, Advanced Symbolics Inc. (ASI), has developed a patented method of building representative samples and then capturing information with their AI tool. By using ASI's AI tool, we have produced a truly global perspective on the business issues of the moment and where they rank in terms of leadership attention. We've also calculated the confidence index level for every topic and audience and identified how this changes for 42 countries around the world. This is incredibly valuable insight because it not only represents what leaders are talking about, rather than responses to questions, but also shows their confidence or concern in addressing each topic. It means you can compare your own thoughts with more than 100,000 of your global peers.