2018 Worldcom Confidence Index
A global report on the issues CEOs and CMOs think will most influence success.
Our Report captures responses from CEOs and CMOs around the world. It has uncovered the issues that they think will most influence success in 2018. And, it identifies their confidence levels in addressing those issues. The Report highlights some interesting differences between the thinking, and confidence of leaders of different roles, ages, gender, size of business, geographic location and scale.
There is a global report that splits into three sections: PART 1 on the most important issues, PART 2 on The Confidence Index; PART 3 on 11 recommendations to address the issues.
We also have four regional reports and eight country reports that highlight the differences to the global report. These are supported by related content such as: infographics, press release, blogs and white papers. You can see highlights, print and download as needed. We hope you find the insight we have uncovered helpful in driving success for your organization.
Local Differences
While the 'battle for talent' seems to be universal, there are some significant differences between the regions and countries. We have four regional reports: America, Asia, Central and Eastern Europe and EMEA plus eight country reports: China, Czech/Slovakia, France, Germany, Italy, Japan, UK and USA that brings these differences to life.
Download your country/region confidence index report.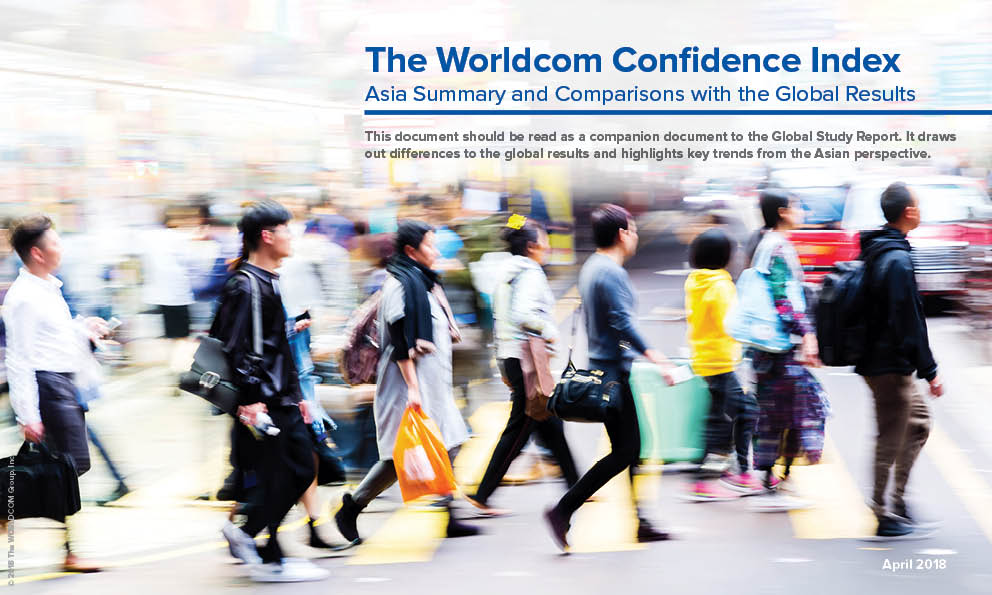 Part 1 – The Issues That Demand Attention
A battle for talent and concerns over threats to plans will make 2018 the Year of the Employee
Business leaders planning to increase focus on attracting, retaining and energizing employees in 2018. The responses from business leaders show that employee engagement, a battle for talent, and concerns over threats to plans, will make 2018 the 'Year of the Employee'.
Employees are the only audience that will receive more attention in 2018 than 2017. In 2017, 14% of leaders gave employees the most attention – one third the level of customers and only 1% above shareholders. In 2018, this metric will leap to 20%. This metric is now half the level of customers and almost double the level for shareholders.
This heightened focus on employees seems to be driven by the leaders' top three threats to achieving their organization's plans. The first threat is government or legislative changes; the second is the lack of available talent and, the third is cyber crime. All three put employees and their behavior center stage because of the role of employees in ensuring compliance with regulations and with essential cyber protection practices. The Facebook/Cambridge Analytica scandal has created increased concern over data protection and data privacy. GDPR – which affects any company communicating with an EU citizen – is a good example of a legislative change that requires employees to change their behavior. The penalties for noncompliance are existence-threatening for businesses.
Organized cyber crime is also existence-threatening. Employees are seen as the weakest link in cyber defenses – it takes just one employee clicking on a phishing link to open the door to cyber criminals.
Please read the full report to see the other six main issues.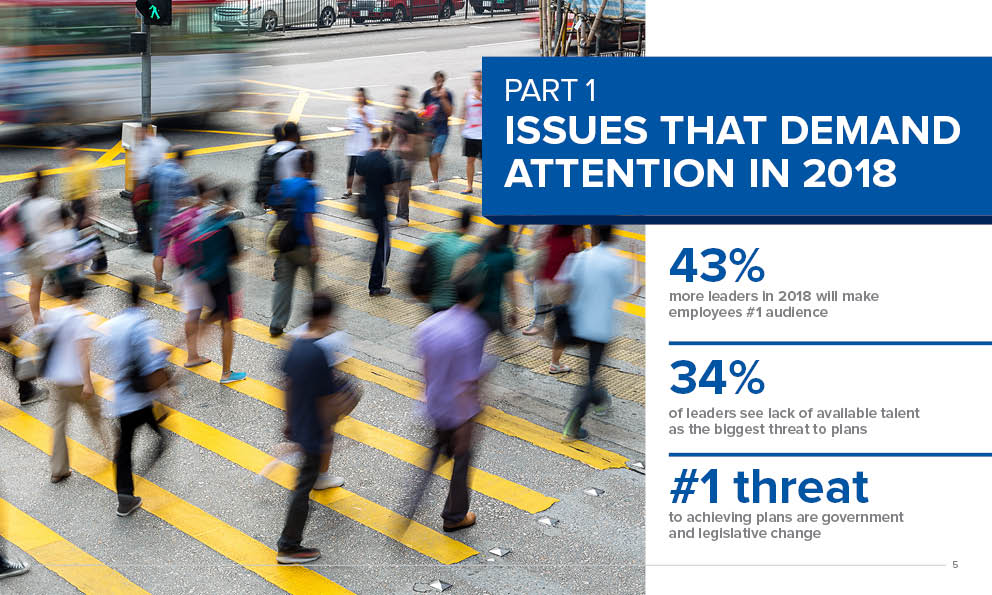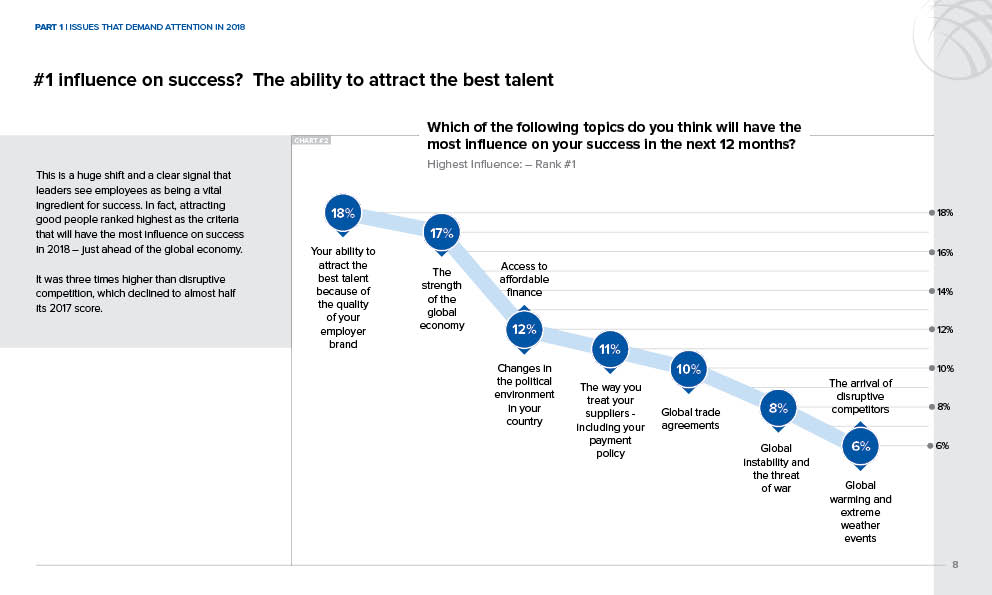 Part 2 – The Worldcom Confidence Index
The results of our survey uncovered interesting differences in levels of confidence between leaders of a different role, age, gender, size of business, geographic presence and where the business is headquartered.
As a result, in addition to highlighting key issues and trends, we have created the Worldcom Confidence Index. The Index score is calculated by adding the percentages for the extremely confident ranking of each demographic and dividing by the number of demographic categories.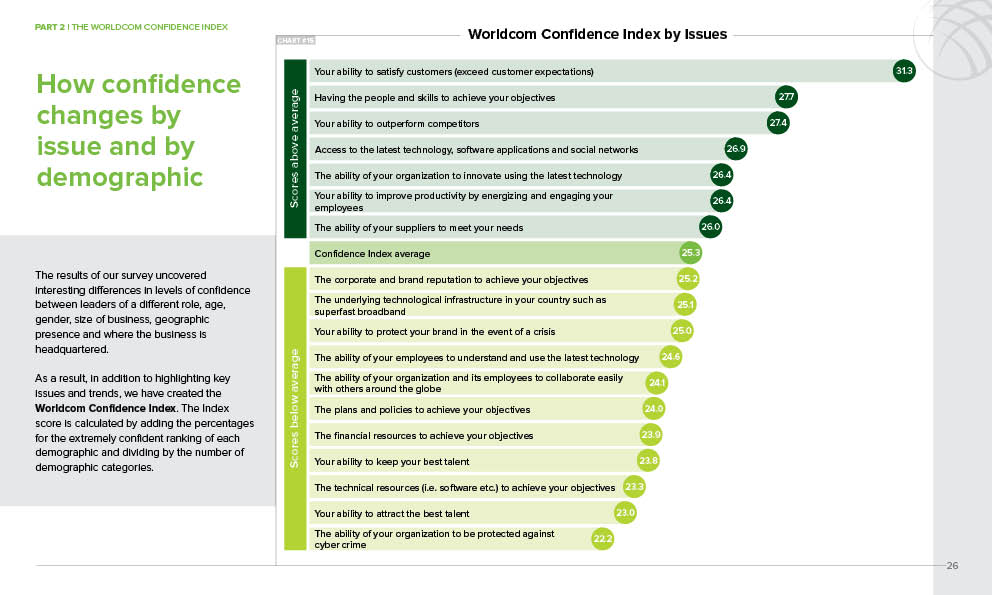 Part 3 – 11 Recommendations to Increase the Probability of Success
Based on our findings, we offer 11 recommendations to minimize risks and increase the certainty of success. The Worldcom Confidence Index indicates that 2018 will be the Year of the Employee. Therefore, many of our recommendations focus on energizing and engaging employees. The study also highlights a range of issues and threats, so our recommendations look at how the impact of these risks can be minimized.
To see all 11 recommendations, download the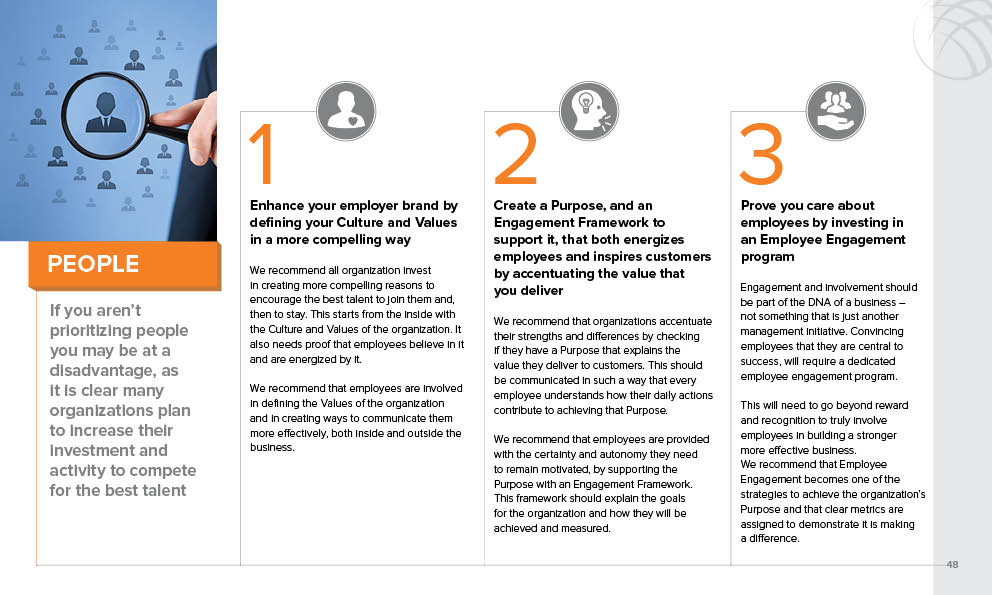 obal report.
Interested in seeing the report by the numbers? Download the Worldcom Confidence Index infographics.
Comments on the Report
Ruth Dance, Managing Director, The Employee Engagement Alliance
"I would encourage small organizations to take advantage of proven best practice to energize their employees. It should be easier to make a significant impact in a smaller business because lines of communication are shorter, and layers of communications are fewer. Making an effort to involve and engage employees in developing a stronger Purpose and driving improvement will pay real dividends in business performance."
Aimee Lucas, Vice President and Customer Experience Transformist, Temkin Group
"Our annual Employee Engagement Benchmark Study shows that, compared to disengaged employees, highly engaged employees deliver significant business value. They are almost five times more likely to recommend the company's products and services, they are over four times more likely to do something that is good, yet unexpected, for the company, they are three times more likely to stay late at work if something needs to be done, and they are over five times more likely to recommend an improvement at the company."
Amy Brann, Synaptic Potential
"Every week we learn more about how our incredible brains work – and the mysteries continue to be unveiled. From raising oxytocin levels to become better mind readers and more empathetic, to the effects of testosterone on negotiations – we know chemicals are hugely influential on results. Strengthening different networks in the brain helps people literally change previously considered 'fixed' personality traits. In a world rapidly welcoming machine learning, knowing what makes us human and how to strengthen our unique gifts is an urgent matter."
Patrick Müller, Sophos
"Technology can only protect you so far, in the war against cyber crime. We believe it's essential that every organization is proactive in educating its employees about safer cyber practices. This needs to be a continuous activity as cybercriminals are constantly innovating to find new ways to breach our defenses."
Celine Schillinger, Head of Quality, Innovation and Engagement, Sanofi Pasteur
"Ideas and actions from our employees transformed the performance of our vaccines manufacturing division. For example, employees changed the way samples are labeled which saved over 1000 work hours a year at one site alone. Other employees have simplified documents or improved the use of raw materials, saving precious resources to help us better achieve our mission."
Ruth Dance, Managing Director, The Employee Engagement Alliance
"It's very easy for small companies to believe they can't compete at an employer brand level because they can't offer the same working environment or benefits as Google or Apple. However, our work with our members shows that, while these tangible factors matter, intangible factors, such as Purpose and Values, matter more. It's often said that people don't leave a company, they leave a manager. So, my advice is for smaller organizations to focus on developing a Purpose that inspires, and then ensuring that every manager brings this Purpose to life for each employee through the way they behave, and the coaching and care they give to their team."
Patrik Schober, Chairman, Worldcom Group
"I believe it is essential for organizations of all sizes to assess exposure to risk on a regular basis. New threats can materialize from the most unexpected directions. After decades of stability and cooperation in Europe, the decision by one political leader has introduced a seismic change with Brexit. This is having far-reaching implications for every business in the EU and millions of organizations beyond its borders. Keeping your finger on the Brexit pulse is now a significant risk management task."
Related Content
We have a range of related content to support the reports. These include: 5 Infographics that summarize the findings and recommendations, a press release, blogs that address the main issues and a White Paper from Synaptic Potential called: Harnessing a Brain-Friendly Style of Communication that provides invaluable insight about how to communicate to attract and keep the best talent.
Click on the eight images on the right to read each infographic or other documents, and print or download them.