The campaign began in 2018 and has evolved each year based on the achievements of the previous year.
In 2018, after the research phase, we realized we needed the support of thought leaders to change the perception of this taboo issue. People who suffered from the disease needed both courage and a platform to speak about the disease. We decided to create a sense of community for sufferers and encourage them to 'come out of the closet.' Based on 'persuasion requires wisdom' approach, we decided to organize a public event targeting a more educated group. After an in depth search, we decided to sponsor the Turkish leg of "The Distinguished Gentleman's Ride" (organized worldwide) and enhance it with our own campaign. "Wear a Blue Tie" (Light blue is the color of the prostate cancer charity and a tie was chosen as a manly symbol to be promoted like the pink ribbon for breast cancer).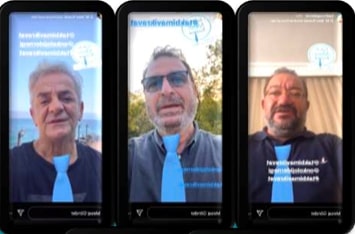 Participants wore blue ties & bow ties during the ride.  The initial phase was a huge success – reaching around 14M people. We collaborated with Esquire magazine and increased the reach and appeal of the ride with celebrities riding classic bikes. We also secured prime-time broadcast interviews for the head of the oncology society.
In 2019, we built on the success of the first year by taking the campaign to more regional areas of Turkey. We decided to create very strong brand awareness by dressing the 'iconic buildings' of major cities with a blue tie – thus connecting to locals' hearts & minds. We secured support from local government so we could create meaningful connections with local communities. By organizing events in Istanbul, Ankara and Izmir we reached over 17 million people in the second year of the campaign.
In 2020, after the COVID-19 pandemic hit, we were unable to continue our campaign in other Anatolian cities but that did not stop us. We switched our focus from a physical presence to a social media campaign. We created an AR Instagram filter & story campaign with middle aged male influencers and sports media. Sponsored video content was implemented in social channels including Instagram, Twitter, Facebook and Sports Media. Both traditional & social media were used effectively and our reach for the year grew to 21 M.