[eBook] The Future Of Communications – 2023 PR and Communications Trends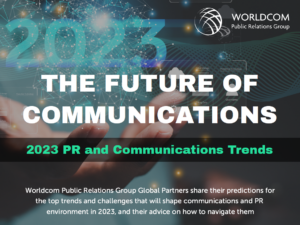 Worldcom Public Relations Group's Global Partners share their predictions for the top trends and challenges that will shape communications and PR environment in 2023, and their advice on how to navigate them.
Fill out the form below to receive your free copy of our eBook.
If you'd like to discuss our communications predictions for 2023 with one of our PR experts to inform your communications strategy for the year – click here to find a PR expert in your area.