Brands are seen as value enhancers for businesses because they build consumer trust that the product or service will deliver what they need and is worth a premium. While CMOs are clearly concerned about the economy, they seem to see their brands as the way to sustain value in the recession. Confidence in corporate image and brand reputation saw the second largest increase over the previous month – up 0.77%.
Improving CX from the inside out
Forrester's Global Marketing Survey predicted that CMOs, who are typically seen as owners of the brand, would begin to influence or control both CX and EX because of the impact each has on the brand and vice versa. The predictions were made before the war in Ukraine and the global impact this had. So, what does the latest data from the WCI show in terms of CMO confidence for CX and EX? Confidence in customer satisfaction saw the fourth largest increase over last month. Confidence in EX also rose but less than half as fast. Highly engaged employees are vital for delivering an exceptional customer experience and CMOs clearly see that sustaining success through the recession must start with employees.
Technology as a source of marketing innovation – but where does AI fit?
While CMOs may be using the brand as the first line of defence, they seem to be turning to technology to deliver marketing innovation. Confidence in the use of technology to innovate saw the biggest increase month on month. Confidence rose by 2.08%, almost three times as fast as confidence in brand reputation. However, confidence in Artificial Intelligence (AI) saw the second biggest fall – down 0.42% – despite high levels of engagement in the topic[ii] – suggesting CMOs have not yet worked out how to use AI to deliver the disruptive approach they need to succeed.
Todor Janev, chair of The Worldcom Public Relations Group, said: "If CMOs are to succeed with this recession-busting strategy, they will need buy-in from the entire organization – from the individual employee to C-suite colleagues. This will need everyone to be aligned around a common Purpose. Our latest results show this may require more work, as CMO confidence in purpose-driven leadership fell 0.2% from last month."
Todd Lynch, managing director of Worldcom, said: "Previous recessions show that investing in innovation is a route to future success. A key component in this innovation process will be how well CMOs gather and interpret data about the brand, CX and EX. As an organisation that has used AI-fuelled insight creation, we believe AI could play a significant role in pinpointing disruptive marketing strategies."
The Worldcom Confidence Index is the world's most extensive monthly study of what the C Suite is talking about. And it is the only global study that shows the change in confidence across a range of important business topics. This extensive data is now available via an interactive online portal and can be filtered by geography, industry, and role. You can explore the data HERE. Our Worldcom partners in 115 cities are ready to provide even more local context. Contact Todd Lynch to start the discussion.
The Global Results and the Video summary for the month of July can be seen HERE.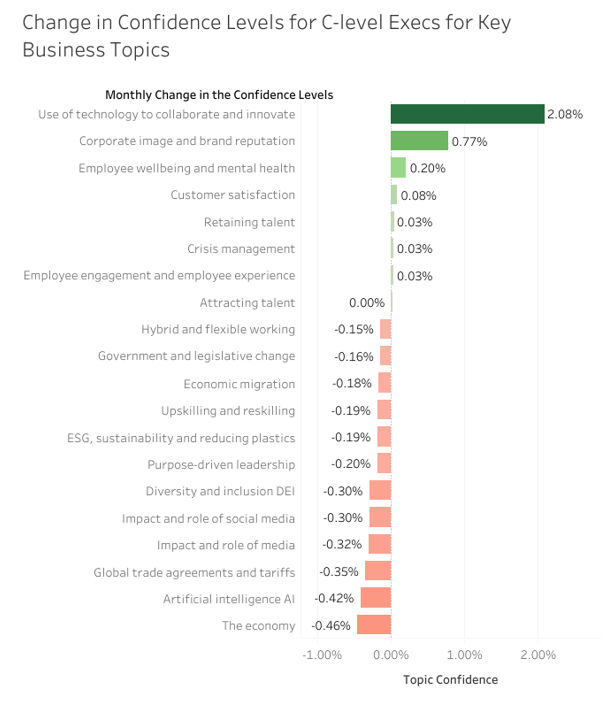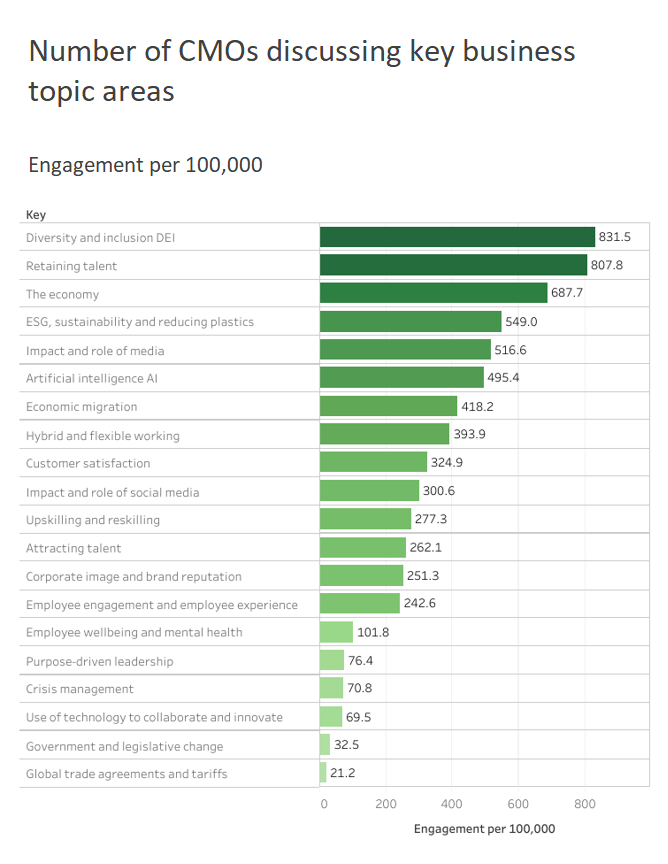 About the Worldcom Confidence Index
The Worldcom Confidence Index (WCI) is the first AI-driven 'living' global market research, tracking the topics that over 80,000 CEOs and CMOs are commenting on online. The AI-fuelled tracker is updated monthly and is drawn from an active sample of over 100,000 C-Suite executives. It tracks data for two roles, six regions, 42 countries and 11 industry sectors. It identifies the levels of engagement with business topics and how much the level of confidence for each topic has changed. It is the first global study of this type to use AI supported data capture. The longitudinal analysis employed by ASI, the research company providing the data for the WCI, enables Worldcom to look back in time and make direct comparisons for levels of engagement and confidence.
About The Worldcom Public Relations Group 
The Worldcom Public Relations Group is the world's leading partnership of independently owned public relations firms, with 143 offices employing some 2,000 staff in 115 cities across six continents. In total, Worldcom partners reported combined revenue of US$300+ million last year from 3,034 clients. Established in 1988, the group was formed so that the strongest, most capable independent firms could deliver immediate impact and sustained value through the intelligent use of communications – wherever in the world a client needs support. Partners serve national, international, and multinational clients, while retaining the flexibility and client-service focus inherent in independent agencies. Through Worldcom, clients have on-demand access to in-depth communications expertise from professionals who understand the language, culture, and customs of the geographic areas in which they operate.